Return to Headlines
Kimberly Sherony to Lead All In Clayton Coalition
The All In Clayton Coalition recently took a big step forward in its mission to keep students safe from substance use by hiring a full-time project director. Kimberly Sherony brings her passion for prevention to Clayton after spending the past seven years as prevention educator with the St. Louis chapter of the National Council on Alcoholism and Drug Abuse (NCADA).
Sherony is looking forward to leveraging her experience "to find new and creative ways to carry out the Coalition's mission of reducing substance use among Clayton students." She continued, "I am also excited to collaborate with students, faculty and community members to develop opportunities for education and honest dialogue surrounding issues related to substance use."
In addition to her recent work with the NCADA, Sherony brings a breadth of experience as a community health professional with proven leadership, curriculum and project/people management skills. She is a certified Prevention Specialist in the state of Missouri with a Master's Degree from Vanderbilt University and a Bachelor of Arts in Psychology from Hope University. All of this comes together to help her further the work of the Coalition as a resource for students to advocate for themselves and their school community.
"We know that peer influence is a huge factor in teen decision-making, especially when it comes to substances," explained Sherony. "We are excited to increase involvement with various advocacy and volunteer opportunities to empower those students to influence their peers to make healthy choices."
Beth Deutsch and Bruce Butler, co-chairs of the All In Clayton Coalition, are pretty excited as well. Both were instrumental in securing a five-year grant from the Substance Abuse and Mental Health Services Administration to fund the new position.
'We are thrilled to have Kim on Board as the Project Director for All In Clayton Coalition," Deutsch said. "She is the whole package. Not only does she have years of expertise supporting the NCADA's drug prevention education in schools, but she is also truly a pleasure to work with and relates easily to both youth and adults."
Butler continued, "The federal matching grant will enable us to sustain and grow our important community work. As the face of the Coalition, Kim will be the point person that unites all community sectors - schools, law enforcement, healthcare and government to name a few - to help Clayton youth make healthy choices."
Sherony, who began her work with the Coalition in mid-February, lives in St. Charles with her husband, her four-year-old son and a daughter who recently turned one. In addition to spending time working to bring their mid-century home back to its former glory, Shernoy loves scary movies, spring weather and is always game to try any and all new foods.



About the All In Clayton Coalition
The mission of the All In Clayton Coalition is to keep students safe from substance use (including the Juuling/vaping epidemic) while supporting their mental health because these issues are intertwined. Our community-wide prevention Coalition partners include: the School District of Clayton, NCADA, local businesses, police, parents, students, teachers and healthcare professionals.
About the School District of Clayton
As a public school system dedicated to the education of all children who come to its schools, the School District of Clayton inspires each of its students to love learning and embrace challenge within a rich and rigorous academic culture. The District's early childhood center, three elementary schools, middle school and high school serve a diverse student body of approximately 2,600.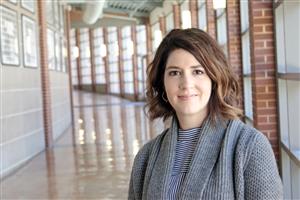 Kimberly Sherony