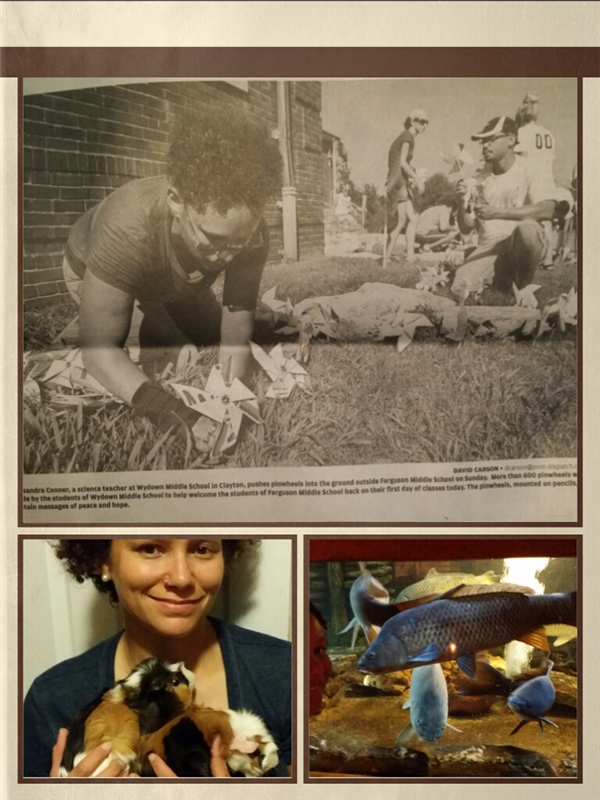 Phone: 314-854-6446
Email:
Degrees and Certifications:
B.S. Biology (Medical Science Specialization) B.A. Chemistry (Medical Science Specialization) M.A. Teaching (Secondary Level 6-12)
Mrs.

Cassandra Conner

I am embarking on my eleventh year in my journey as a teacher and the seventh year of my Wydown expedition. Prior to coming to Wydown, I spent four years teaching Human Anatomy & Physiology, Chemistry and Earth Science at University City High School. My switch to middle school and the School District of Clayton has been an AMAZING experience!

I am looking forward to challenging my 7th graders to think scientifically about everything that happens around them. During this year, I hope to get my students comfortable with ambiguity, as ambiguity and not having a "right" answer is an inevitable part of the science experience.

My motto is,"Science is a daily experience not a class you take!" On the back board of my room, you will see "SCIENCE IS FUN!" because I believe that the best learning takes place when students have a positive disposition.

I have three children a senior (Khaylie) and 7th grader (Khaydn), and a toddler (Zephyr).

If there is any information that you cannot find on my website, please feel free to e-mail me!
Fang, a regular morph ball python, and Bella a pastel ball python will take turns being in our classroom. We have two pond frogs, Sir Hopsleanshtean and Officer Hops, a toad, Kermit and a miniature tree frog, Billy Bob in our room as well.

Students will have the opportunity to assist with the upkeep of our pets if they choose to do so.