Return to Headlines
Five Incoming Seniors Complete College-Level Science Research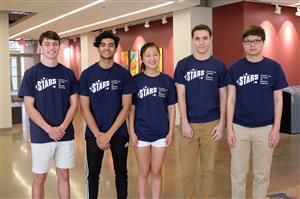 Five seniors at Clayton High School joined nearly 90 of the area's best and brightest high school students this summer for the Students and Teachers as Research Scientists (STARS) program housed at the University of Missouri–St. Louis (UMSL). Zacharia Hadjri, Katie He, Kevin Kotzbauer, James Malone and Krish Sardesai spent six weeks this summer carrying out intensive science research under the mentoring of leading local scientists.
"These students are a focused, disciplined and outstanding academic group," said STARS Director Ken Mares. "I hope they've gained a great understanding of the research process and some additional motivation to pursue an undergraduate major in science."
The STARS program gives students the opportunity to assist top St. Louis scientists while conducting undergraduate-level research on a topic of their choice. Through student-mentor partnerships, student participants apply various problem-solving strategies to independent research projects. Mentors for the program are top researchers from the Cortex Innovation Community, Donald Danforth Plant Science Center, Saint Louis University, Washington University in St. Louis, and the host institution, UMSL.
On Friday, July 19, the students presented their findings in a seminar format. The students' written summaries were then distributed to senior scientists across the St. Louis region, who reviewed the reports and determined this year's Awards for Excellence in Research based on several criteria including difficulty and complexity of the research, appropriateness of the research methodology, findings, quality of the writing and overall quality of the research process. Upon review, Kevin, James and Krish each earned an award for their respective projects.
The following list includes the titles of all of the CHS students' research projects and their mentors:
Zacharia Hadjri, "Synthesis and Characterization of Thermochromic Bimetallic Complexes." Dr. Stephen Holmes, University of Missouri- St. Louis.
Katie He, "Daily Variations in Preterm Infant Sound Exposure in the Neonatal Intensive Care Unit." Dr. Bobbi Pineda, Washington University School of Medicine.
Kevin Kotzbauer, "Stereocontrolled Glycosolation of Galactosyl Bromides Using Protecting Group Modifications." Dr. Alexei Demchenko, University of Missouri – St. Louis.*
James Malone, "How Early Life Stress Affects the Functioning of the Amygdala." Dr. Rachel Wamser-Nanney, University of Missouri – St. Louis.*
Krish Sardesai, "The Effect of Cuprizone on the Histomorphology of the Nerve System." Dr. Mikhail Berezin, Washington University School of Medicine.*
*award winner