Return to Headlines
Summer Programming Supports Continued Academic Success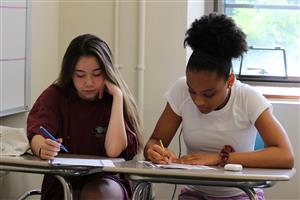 Learning never stops in the School District of Clayton. Shortly following the final bell of any school year, the District's summer programming begins. From K-12 summer academies to summer camps to staff workshops, the District utilizes the summer months to extend the learning that took place during the previous school year while preparing students and staff for greater success during the upcoming year.
Summer Academy at the elementary, middle and high school levels is focused on academics, which includes reinforcing key skills and concepts such as literacy and math. Wydown Summer Academy (WSA) also offers fee-based enrichment options such as Quiz Bowl and Sign Language for students who have not been recommended for academic support. At the high school level, students take courses both to recover credits and to get ahead in their credit count. Additionally, high school students may enroll in several non-credit courses including ACT Prep and the Great Start to CHS course for incoming freshmen.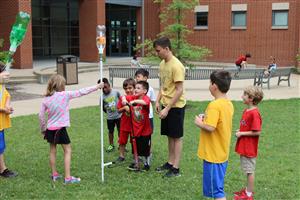 "WSA is a program designed to reinforce skills that will prepare students to be stronger in the upcoming year," said WSA Director Steve Meier. "For both struggling learners and those looking to expand on particular interests outside of the regular-year curriculum, WSA provides a nurturing environment for all students."
The District's summer camp, SummerQuest, has grown into one of the region's premiere summer day camps. SummerQuest provides students in kindergarten through eighth-grade with learning opportunities beyond what they might find in a traditional classroom. Utilizing Shaw Park, The Center of Clayton and the music, science, art and theater facilities at Clayton High School, campers enjoy three sessions of fun workshops that vary depending on their age. From ceramics to swimming to robotics, SummerQuest provides learning opportunities in a relaxed and enjoyable atmosphere.
"We take fun seriously at SummerQuest!" said SummerQuest Director Doug Verby. "SummerQuest represents a perfect collaboration between the best that Clayton has to offer. The outstanding local facilities provide a safe space for our campers to enjoy fun, educational summer experiences!"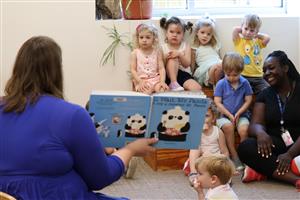 The District's youngest learners take part in their own camp experience through the Family Center's Summer Camp for three-, four- and five-year-olds. With special guests like the Clayton Fire Department and youth librarians from St. Louis County Library, this camp provides students with fun opportunities to help them grow as learners both at school and at home.
While the District's faculty and staff look forward to summer break nearly as much as their students do, they are purposeful about investing time in their own growth and development during the summer months. The District is offering staff members nearly 50 Summer Institutes on a wide range of topics in which they can attend this summer. Led by their colleagues and a few outside consultants, these workshops teach attendees new tools and strategies they can add to their toolboxes for the coming year. The Summer Institutes also include book studies, technology trainings and collaboration sessions to help staff members enhance their knowledge and skills both personally and professionally.
"As a learning organization, opportunities to grow and learn are important for students and staff alike," said Assistant Superintendent of Teaching and Learning Dr. Milena Garganigo.
With the 2019-2020 school year quickly approaching, these summer learning opportunities will help Clayton students and staff to be better prepared for success when the opening bell rings on Aug. 13.