Return to Headlines
Celebrating Our School Counselors
In celebration of National School Counseling Week, held from Feb. 4-8, Glenridge Elementary Counselor Rachel Spann has written the article below about the important role counselors across the District play in student transitions. National School Counseling Week is held annually during the first week of February to highlight the tremendous impact school counselors can have in helping students achieve school success and plan for a career.
---
"Transitions" – sometimes a charged word, sometimes not so much. In the School District of Clayton the school counselors are responsible for making transitions more comfortable, not only for the parents, but for teachers and students.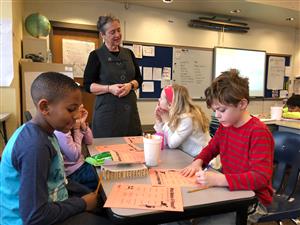 When it comes to transitions, as an elementary level counselor, I would start by thinking of a brand new year… New Student and Family Orientation the day before school starts is a transition full of information, but hopefully one that clarifies and prepares students and their families for the opportunities a new year and a new school will bring. On a more personal level, I try to share lunch with all the new students shortly after they arrive at Glenridge to get to know them and introduce them to myself and other students. With new students arriving almost weekly at Glenridge, this is a year round job!
Daily kindergarten recess and lunch duty allows me to get to know our new crop of kindergarteners from the ground up. I love exploring the way children socialize at recess and lunchtime and serve kindergarteners in transition. A more specific way I assist with transitions is through my Life Skills curriculum, not only for the kindergarten students, but also for first- through fifth-graders as well. The guidance curriculum in the elementary level is very concentrated on social and emotional skills, like identifying and communicating feelings. These lessons serve as a transitional awareness too when students are asked to reflect on the school year at the beginning and again at the end, especially with the fifth-graders moving on to middle school.
Middle school transitions involve the elementary and middle school counselors who assist both students and parents. Numerous meetings with parents and with elementary and middle school staff is for the purpose of smoothing transitions during a time that can be stressful and exciting! On top of that, I have chosen to attend Sixth Grade Camp the last three years and plan on continuing this important transitional event. Camping is my "cup of tea" and I love the connections I get to make with the new sixth-grade students not only from Glenridge, but also from Captain, Meramec and other sixth-graders!
Class placement, communicating with preschools and daycares about incoming students, and even visiting students over the summer for home visits or at Summer Academy are also ways the school counselors work to secure smooth transitions. Attending a high school graduation; having the chance to visit with the high school tutors or middle school students who visit after school; sponsoring Fifth Grade Jewelry Club after school; or attending a middle school play, high school musical or band concert are all transitional times I cherish!
After 15 years in the District I find the years continue to roll by and every year the transitions serve to make me more aware of the important growing and learning our students accomplish. Transitions…. inevitable and unavoidable, but definitely an opportunity!