Return to Headlines
Internship Program Benefits Glenridge Students, Future Teachers
Five of the best and brightest education students from Missouri State University (MSU) are lending their talents to classrooms at Glenridge Elementary this school year through a new partnership between the School District of Clayton and the university. The students have traded the traditional semester-long student teaching placement for a yearlong position teaching alongside a master teacher at Glenridge Elementary.

"I have always wanted to be a teacher, so the idea of spending an entire year in a classroom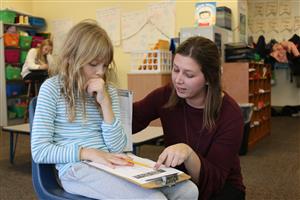 over just a typical semester of student teaching seemed amazing," said MSU intern Grace Schroeder. "I have been learning teaching skills, strategies and techniques from some pretty amazing people."

The MSU internship program is similar to the District's long-standing partnership with Truman State University. The five MSU interns will spend the school year improving their craft by learning from their colleagues while also making connections with their students.

While the interns are not paid for the experience, they gain valuable teaching opportunities typically not afforded to student-teachers, such as participation in the District's New Teacher Orientation and professional development days. Additionally, they have a deeper teaching experience by experiencing the school year from start to finish.

"This program will help them feel so much more prepared to have their own classroom. To see the entire school year is a benefit to them and a benefit for us," said Glenridge Instructional Coordinator Janet Crews, who is the liaison between MSU, the interns and Glenridge.

The internship program is in its third year at MSU, but this year is the first time St. Louis districts - Clayton and Webster Groves - have participated.

"We decided to participate in the MSU internship program in part because of the success of our Truman partnership and because of Missouri State's long tradition of producing high-quality teaching candidates," said Assistant Superintendent of Human Resources Dr. Tim Dilg. "The program gives us the opportunity to support the professional growth of these students while also gaining a pipeline for high-quality future teachers."

Clayton is piloting the MSU internship program at Glenridge this year due to a spike in the school's enrollment. The MSU interns are supporting second- through fifth-grade classes, while additional elementary interns mostly support students in kindergarten and first-grade. The additional classroom support not only aids the classroom teachers, but it also gives students another trusted adult from whom they can learn and establish a connection.

"The best part about the program has been getting to know my students," added Schroeder. "They have taught me so much in just my first semester and I would not have learned as much if it wasn't for them. They keep me on my toes, but each day I strive to learn more to help them all succeed."