Return to Headlines
Speaker Inspires Journalism Students to Look for "More Good"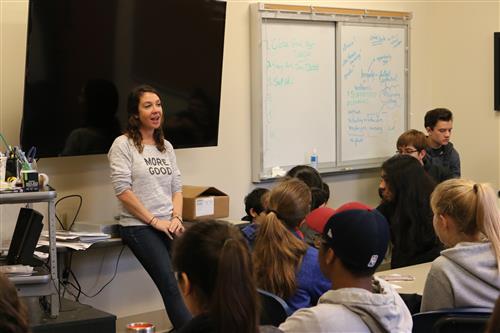 "There is always going to be horrible and tragic things that happen, but there will always be more good out there, you just have to look for it."

These words inspired Mary Latham to found the "More Good" project. They were spoken by her mother, who passed away in 2013. In her mother's honor, Latham has been traveling the country for the past two years, seeking out "more good" through stories of kindness from places big and small.

When Latham's journey brought her to St. Louis on Dec. 4, she made a stop at Clayton High School to speak with the journalism and yearbook students. During her presentation, Latham talked about her journey so far and shared some of the stories she has collected along the way. She also answered the students' questions and gave them tips for finding a good story.

"Say yes to every opportunity you can because you never know who you might connect with or what you might learn," she advised.

Throughout her journey, Latham has visited 34 states and stayed in 115 different homes - often with strangers who show their own kindness by opening their doors to her. She has heard incredible stories of kindness, and has even had the opportunity to see the stories play out in front of her.

Once Latham visits her 50th state, she will compile the stories of kindness into a book that she will donate to hospital waiting rooms across the country. She hopes the stories will provide hope and healing to others in the same way they have healed her.

Learn more about the project and share your story at moregoodtoday.com.