Return to Headlines
Classes Cancelled on Nov. 22-23
Dear Clayton Families -
The past 20 months have been extraordinary, calling on each of us to take care of one another on an unprecedented level. Even though learning looks a lot like it did before the pandemic, there are still many things about our lives, both in school and at home, that are far from normal. Our students, teachers and families know and feel this all too well. While we have been able to return to some of the familiar routines by keeping a focus on academic excellence and fostering a sense of belonging and the social emotional well being of all, we have also encountered challenges along the way.
While our primary focus is, and always will be, learning, we have come to understand that learning is more effective when accompanied with an intentional focus on the social and emotional well being of our students and staff. Our incredible staff works diligently to give our students the best Clayton experience possible, including a strong focus on mental wellness. However, we also recognize that our students, as well as our staff, continue to deal with challenging times as they readjust to this school year.
Therefore, in order to provide time for our students and staff to focus on their social and emotional health, I have made the decision to extend our Thanksgiving Break and to close the District for the week of Thanksgiving. There will be no classes on Monday or Tuesday, November 22-23, and all schools, offices and buildings will be closed all week. We will have full-day programming available for current Kid Zone families on the days that school is closed.
Family is a grounding and energizing force that reminds me of the things that are truly important in life. For many of us, it becomes even more important around holidays like Thanksgiving. I hope that you can use these extra few days to rest, recharge and reconnect with your families. Thank you for always supporting us and for understanding our need to give our students, parents and staff this precious time.
Respectfully,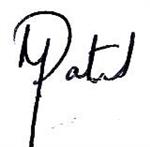 Nisha Patel, Ed.D.
Superintendent