Return to Headlines
Donate to Captain through eScrips
Help us raise money for Captain! There are several programs offered by local and national businesses that are designed to help schools raise money.
Here are a few:
---
Boxtops for Education
Help earn money for Captain with
BOX TOPS FOR EDUCATION!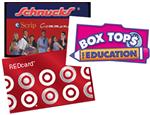 Box Tops
are found on all types of products.

For every box top we collect, Captain receives ten cents.
Here is how you can help:
*Keep your eye out for box tops around your house.

*When you find a box top, cut it out.

*Tape or glue the box top into one of the numbered rectangles on the back of this sheet. Don't worry if it doesn't fit perfectly inside the rectangle, just work to fill up each column on the sheet with 10 box tops.

*Once you have completed one column cut that column off and turn it in to your classroom box top envelope.
Thanks for your help!
---
Schnuck's E-scrip
card
Each month, we raise over $100 for the school just by
swiping a card at Schnuck's.



If you are not participating in this great fundraiser, stay tuned and we'll let you know how you can help.

---
Target RedCard: Take Charge of Education


If you have a Target RedCard (Visa card), Target will donate $$ to our school. You can designate Ralph M. Captain to receive up to 1% of your total purchase.

For more information, see the
Target RedCard
website.

---
Subway School Rewards:
The
SUBWAY SCHOOL REWARDS
™ program is a way to earn money for your school each time you dine at SUBWAY

®

restaurants. Your school can use the money for supplies, athletic equipment — whatever it needs most.

Individuals can participate by obtaining a SUBWAY

®

Card at a local SUBWAY

®

restaurant (or contact
[email protected]
), loading it with funds, using it to pay, and then linking it to their selected schools at
SubwaySchoolRewards.com
.

Schools can participate too! Schools just need to enroll and order free materials to distribute to their supporters. Then, participating supporters need to pay for meals using a SUBWAY

®

Card that is linked to their school. A portion of every purchase will go back to the school.
---
Buying a prepaid debit card? Using MySchool DebitCard will earn money for Ralph M. Captain!
For more information, see myschooldebitcard.com