Return to Headlines
Asian American and Pacific Islander Heritage Month Activities
May is Asian American Pacific Islander Heritage Month. We want to put a spotlight on an event that will be happening in the District. Stay tuned for upcoming content around these celebrations!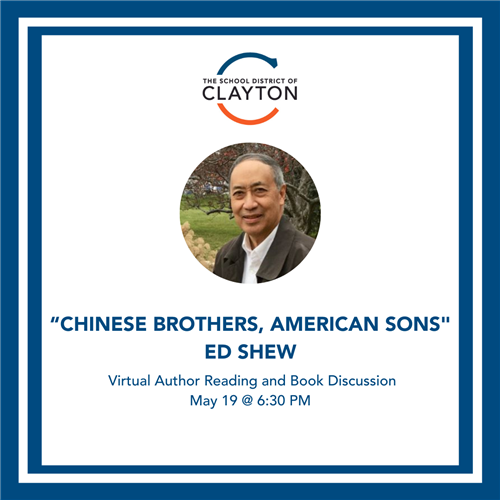 "Chinese Brothers, American Sons" - Ed Shew
Thursday, May 19 @ 6:30 p.m.
Virtual Author Reading and Book Discussion
Author Ed Shew will be hosting a discussion about his book, "Chinese Brothers, American Sons." This book tells the little-known story of these brave adventurers through the eyes of two brothers, Li Chang and Li Yu, who arrive in San Francisco in 1854 in search of the Gold Mountain. Enjoy a presentation via Zoom from the comfort of your own home to explore how many men from southern China changed the course of American history through their work in the goldfields and later in building the Transcontinental Railroad.
We invite you to join us for this event. There is no cost to attend these virtual events but registration is required.
You can read more about him in this interview here.
The book is available for purchase.
You can directly purchase the book at the front desk of the Administrative Center for $17.00 at the Clayton School District, Front Desk of the Board of Education Office at #2 Mark Twain Circle, Clayton, MO. You can also call 314-854-6000 if you have any questions. You can pick it up directly at the front desk and pay via Venmo, Paypal or a check.
To purchase directly from the author, Shew can offer a discount off the online price that will total to $21.02 that includes shipping by USPS media mail. He can also include an insert and can sign, if you wish.
You can also find it at many major retailers including Amazon, Kindle, Barnes and Noble and independent bookstores including The Novel Neighbor in Webster Groves and Left Bank Books in Central West End.
Thank you for your continued support and participation in our community.
Other Activities (stay tuned for more updates):
AAPI Trivia Quiz
Local students from the Asian American Civic Scholars Team of AAPI History Volunteers Team, a community based group, have been working on special projects to bring awareness to AAPI history. A few students from the District have been participating in this group as well.
They have created an online trivia questionnaire with questions about AAPI history and culture pertaining to the St. Louis community. The AACS Team of AAPI History Volunteers Team includes Junnie Bae, Hannah Moon, Megan Ouyang, Sai Prem, Larry Qian, Yehia Said, Aanya Sigh, and Max Zeng. These students were assisted by advisers including Christopher Gordon, Huping Ling, Min Liu, Ed Shew, and Peter Tao.