Return to Headlines
Steve Hutson Appointed Clayton High School Athletic Director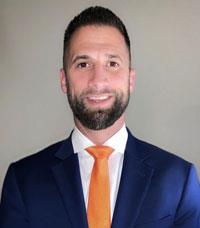 The School District of Clayton is pleased to announce the appointment of Clayton High School Physical Education (P.E.) and Health Teacher Steve Hutson as the new CHS Athletic Director beginning with the 2019-2020 school year. Hutson will replace Bob Bone, who is retiring at the end of the school year after serving in the position for the past 13 years.
"This is an exciting opportunity for me professionally. I look forward to sharing my passion and continuing to grow the Clayton High School Athletic Program," said Hutson. "Leading and supporting the Clayton student-athletes, coaches, parents and community members as the Athletic Director is an incredible honor. I have had a lifelong connection to athletics, and from these experiences I am looking forward to fostering growth opportunities within our student-athletes."
Hutson currently serves as the Department Chair for the CHS P.E. and Health Department, a position he began this school year. Prior to his role at CHS, Hutson taught P.E. at Glenridge Elementary since 2004. He has served as the Assistant Coach for the CHS Varsity Baseball Team since 2007 and was the head coach of the CHS Junior Varsity Baseball Team from 2004-2006. Hutson was named the District's Emerson Excellence in Teaching Award recipient in 2017, and he has been a member of numerous committees during his time in the District, including the Equity Committees at Glenridge, CHS and for the District. He holds a Master's Degree in Special Education from Webster University and a Bachelor of Science in Education from the University of Missouri – St. Louis.
"Steve brings leadership, amazing energy and new ideas that will help take our Athletic Program to the next level," said Clayton High School Principal Dr. Dan Gutchewsky. "His established relationships within the District and his familiarity with the issues facing CHS athletics will allow him to make an immediate impact on our Athletic Program. I am very excited to add Steve to the CHS Leadership Team and am looking forward to our work together."
Hutson officially begins his tenure as Athletic Director on July 1, 2019.