Return to Headlines
Dr. Robyn Viloria Wiens Appointed Assistant Superintendent of Student Services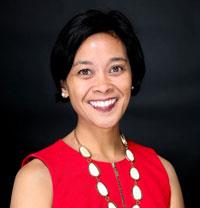 The School District of Clayton is pleased to announce the appointment of Dr. Robyn Viloria Wiens as Assistant Superintendent of Student Services beginning with the 2019-2020 school year. Wiens replaces Dr. Kashina Bell, who is leaving at the end of the year after being appointed Assistant Superintendent of People and General Administration at the School District of University City.
"I am honored and excited for the opportunity to join the School District of Clayton and work more closely with its dedicated staff, parents, students and community," explained Wiens. "I am passionate about building a teaching and learning environment where all students feel individually valued and recognized. I look forward to supporting our schools as we work together to meet the needs of our diverse community of learners."
Wiens served as the founding principal for the Hawthorn Leadership School for Girls. She has held leadership positions in other schools that include serving as Dean of Curriculum and Culture and Assistant Principal. Wiens also has carried out leadership work in assessment and technology and has served as an instructional technology specialist at several schools. She holds a Doctorate of Education from the University of Washington, a Master of Education from the Harvard Graduate School of Education and a Bachelor of Arts in Journalism and Mass Communications from Drake University.
"When we hire new leaders, we want people who are going to grow us," said Superintendent Dr. Sean Doherty. "Dr. Robyn Viloria Wiens is an educator who has an incredible background and leadership experiences in diverse educational settings across the country. She has a passion for learning and supporting students at all levels of need. Robyn is a leader who will be an asset to our district and will take our Student Services Department to the next level."
Wiens officially begins her tenure as Assistant Superintendent on July 1, 2019.