Return to Headlines
School Finance and the Hancock Amendment
On April 2, the School District of Clayton is asking voters to consider Proposition E, an operating levy increase of 56 cents per $100 of assessed valuation and an eight-cent waiver of Proposition C sales tax revenues, in order to close the gap between its rising expenses and relatively flat revenue stream. While the District has taken numerous steps to control costs, factors such as the state law known as the Hancock Amendment will continue to keep the District's revenues from staying on pace with its expenditures.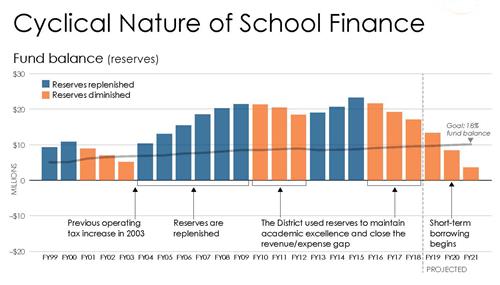 School finance follows a cyclical pattern. A school district's reserve, or fund balance, is the amount of money that is left in the bank at the end of a fiscal year. The reserve is used to ensure adequate cash flow for operations throughout the fiscal year and to offset expenditures in years when expenses outpace revenues. A school district builds its reserves in the years when revenues exceed expenditures, usually following a voter-approved levy increase, which, for the School District of Clayton, was in 2003. Districts then spend down their reserves as operating expenses begin to catch up with and then exceed operating revenues.
School districts like Clayton, which are funded primarily by local property taxes, receive most of their tax revenue in December and January of each year. As a result, Clayton must keep enough of its budget – at least 18 percent – in reserve to ensure it will have adequate cash flow to fund operations without borrowing money throughout the course of the year. For the 2018-2019 school year, the District currently has a reserve of 25 percent. Each year that reserves are used to offset expenditures erodes the District's fund balance. Absent any budget reductions or revenue increases, the District's reserves will fall below its 18 percent goal in the 2019-2020 school year.

One of the main factors that limits growth of the District's tax revenue is the Hancock Amendment, a state law that provides property owners with a safeguard from having their property taxes raised due to increases in assessments higher than increases in the cost of living. As assessed value of property within the District goes up, the Hancock Amendment requires the District to roll back (reduce) its tax rate so that revenues from existing property can only increase at the lesser of the following three scenarios:
Five percent
Consumer Price Index (just 1.36% annually on average for the past five years)
The change in assessed valuation, which, if negative, causes the District's revenue to be flat due to the fact that the Hancock Amendment protects school districts from collecting less tax revenue than they did the year before, regardless of a decrease in assessed valuations.
Consequently, the District's operating tax revenue has remained relatively flat since the last voter-approved increase in 2003. This is a problem for many St. Louis County school districts, but especially for districts like Clayton that rely primarily on local taxes for revenue.
Learn more at claytonschools.net/PropE.